Error message
Deprecated function: The each() function is deprecated. This message will be suppressed on further calls in _menu_load_objects() (line 579 of /data05/virt43273/domeenid/www.nuppi.eu/htdocs/includes/menu.inc).
III BALTIC PAEDIATRIC CONGRESS
19.- 21.08.2015 took place the third Baltic Paediatric Congress in Riga, Latvia. The program included different lectures, workshops and meetings/sessions with professors, which covered the entire child-related diseases. A large number of internationally well-known experts presented their research results and shared their experiences in the field of clinical and laboratory practice. There were participants from Albania, Belarus, Estonia, Finland, France, Germany, Iceland, Ireland, Israel, Kirgizstan, Latvia, Lithuania, The Netherlands, Poland, Republic of Moldova, Spain, Sweden, Tajikistan and United Kingdom.
Cooperation with colleagues from different backgrounds encourages to new scientific ideas and creates innovative possibilities to arrange laboratory and clinical processes. The program offered a unique opportunity for debate and the exchange of ideas. In addition there were highly respected oral presentations and company's presentations/exhibitions, which undoubtedly expanded the knowledge of the latest scientific developments in areas relating to children.
Estonian company
AS SOLBRITT
shared their latest news about the development of 
NUPPI ®
products in Baltic countries market and introduced their products. 
NUPPI ® team.
NUPPI ® assortment and displaying.
NUPPI ® EMA tasting by young mothers.
The interest of Latvian paediatricians about
NUPPI ® 
products 
was extremely active.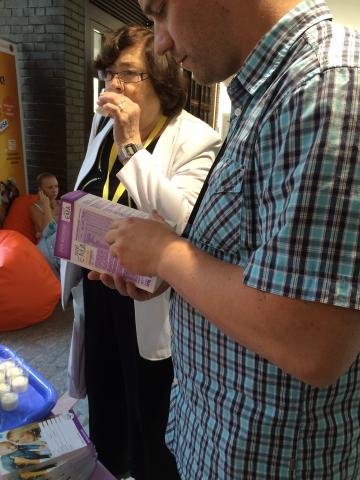 NUPPI ® EMA tasted well to doctors also.
Everybody got to try!